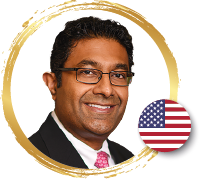 SriniVas R. Sadda, MD, FARVO
SriniVas R. Sadda, MD, is the Director of Artificial Intelligence & Imaging Research at the Doheny Eye Institute, and Professor of Ophthalmology at the University of California – Los Angeles (UCLA) Geffen School of Medicine. He is the immediate past President of the Doheny Eye Institute. He received his MD from Johns Hopkins University, where he also completed ophthalmology residency and neuro-ophthalmology and medical retina fellowships (Wilmer Eye Institute).
Dr. Sadda's major research interests include retinal image analysis, advanced retinal imaging technologies, and clinical trial endpoint design. He has more than 680 peer- reviewed publications and 20 book chapters, and has given over 450 presentations worldwide. Dr. Sadda is Editor-in-Chief of the 7 th Edition of Ryan's Retina. He also serves as an Editor-in-Chief of Graefe's Archive for Clinical and Experimental Ophthalmology and is an editorial board member of Ophthalmic Surgery, Lasers & Imaging, Retina, Ophthalmology Retina, Ophthalmology Science and Ophthalmology.
Among Dr. Sadda's awards and honors are a Research to Prevent Blindness Physician- Scientist Award, a Senior Honor Award from the American Society of Retina Specialists, an Achievement Award and a Secretariat Award from the American Academy of Ophthalmology, John H. Zumberge Research and Innovation Award, the Macula Society's Young Investigator Award, American Society of Retina Specialists Young Investigator Award, Asia-Pacific Academy of Ophthalmology (APAO) Achievement Award, The Macula Society's Paul Henkind Lecture and Award, the Euretina Lecture, and the Vitreoretinal Society of India Nataraja Pillai Oration. He is also a Gold Fellow and Trustee (Retina) for the Association for Research in Vision and Ophthalmology and the President-Elect of the Macula Society. Dr. Sadda's research has been continuously funded by the National Institutes of Health for several years, including a current R01 grant from the National Eye Institute. He has been named to the Best Doctors of America list for several consecutive years.