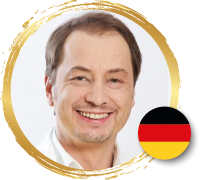 Prof. Dr. med. Peter Szurman, MD, PhD Professor of Ophthalmology Chair of Eye Clinic Sulzbach, Knappschaftsklinikum Saar Director of Klaus Heimann Eye Research Institute (KHERI) An der Klinik 10, 66280 Sulzbach
CURRICULUM VITAE
After studying human medicine in Essen and Paris, Prof. Szurman completed his residency at the University Eye Hospital in Cologne and moved to the University Eye Hospital in Tübingen as a senior physician in 2001. In 2007, he completed his PhD on new treatment options for macular degeneration. In the following year, he was appointed senior physician and deputy director of the Tübingen Eye Hospital and took over the research professorship for "Experimental Ophthalmic
Surgery". Since 2010, he has been the chief physician of the Sulzbach Eye Clinic at the Knappschaftsklinikum Saar.
Prof. Szurman has extensive surgical experience in the anterior and posterior segment of the eye and is considered a recognized expert in minimally invasive eye surgery. In this field, he has scientifically developed numerous new surgical procedures. He is particularly passionate about retinal and stem cell therapy and transplant surgery. He has received several awards in these fields.
In 2007, he received the major research award of the German Ophthalmic Surgeons for his work on the treatment of macular degeneration. He is a reviewer and editorial board member of several international journals and the German Research Foundation (DFG). He has been recommended in the FOCUS list of physicians for 12 consecutive years as a leading expert in ophthalmic surgery in 4 areas (retina, corneal transplantation, cataract and diabetes). The Sulzbach Eye Clinic has become one of the five largest eye clinics in Germany, performing 24,000 surgeries annually in seven new, state-of-the-art operating rooms. Each year, 37 specialized physicians treat 55,000 outpatients and more than 6,000 inpatients. With 2,200 vitrectomies per
year, the Sulzbach Eye Clinic has officially been considered the largest retinal surgery center in Germany since 2015.
With the KHERI Research Institute, founded in 2018, he maintains several experimental research groups including a own clean room laboratory, a specialized tissue bank, a clinical study center, and international research collaborations. His scientific focus is on stem cell therapy, tissue engineering, microchip-based visual prostheses and new techniques in transplantation surgery, especially for cornea, retina and macular diseases. Many research projects are publicly funded by EU, BMBF and
BMI and are acknowledged in 300 publications and book contributions as well as numerous patents and awards.
https://en.wikipedia.org/wiki/Peter_Szurman