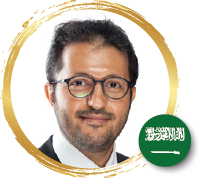 Dr. Abdullah AlQahtani
Professor of Ophthalmology
SAUDI ARABIA
MBBS (KSA), DES-OPH (PARIS), DISSO (SWISS), FEBO (PARIS).
Current Appointments:
Abdullah AlQahtani is assistant Professor of Ophthalmology, surgical Retina and Ocular Oncology in King Saud bin Abdul-Aziz university for health science he is also head of Ophthalmology in King Abdul-Aziz medical city-Jeddah.
Education and Training:
Ass/Prof AlQahtani Having obtained his MBBS from King Faisal University, received his ophthalmology training in Paris University (2006-2010) and was institute Curie (Paris) fellow for Ocular Oncology (2011). He is also St-Augustinus hospital (Antwerp) fellow for Surgical Retina (2012).
He has publications and many invited lectures on worldwide.
He was Chosen to represent the kingdom in Arabic physics exam.
Ass/Prof AlQahtani is Ophthalmology board –Jeddah examiner He also obtained the prince Fahad bin Sultan award in scientific Excellency.
Planning committee member of the Retina World Congress.
Chair of Organization and Retina committee in RED SEA Symposium.
Research Interests:
Ass/Prof ALQahtani current research interests include retina and cataract surgical trials, ocular oncology and Uveitis. He is an investigator in King Abdullah international medical research center.